What comes to your mind when we talk about a home music studio? It is setting your home for music production. You can select a room and make it like a professional studio with some changes. In this article, we will be discussing what are the best laptops for home music Studio.
The concept of a home music studio is becoming famous and adopted among many music producers, especially among beginners. The main reason behind this is that the professional studios are expensive and also because there is too much competition and it is not very easy for every producer to wait for their turn or to stand in the Que.
Due to the coronavirus spread out and its devastating effects around the globe, work from home or hybrid work environment is getting popularity. Thus home music studio will be much beneficial for you.
And when we talk about the best laptops for home music production, this depends on which software we will use mostly djs use software for music production are fl studio, ableton live, pro tools, music recording, also for making beats and many more for Music production. We have also listed here the minimum and optimum requirements for using any music production software in your home music studio without any issues.
System Requirement for Home Music Studio
Minimum Requirements
| | |
| --- | --- |
| CPU | 6th Gen Intel Core i5 |
| Memory(RAM) | 4GB or above |
| Storage | 256GB SSD + 500GB HDD |
| Display | 15.6-inch FHD (1080 x 1920) |
| Battery | Up to 6 hours |
Recommended System Requirements
| | |
| --- | --- |
| CPU | 7th Gen Intel Core i7 |
| Memory(RAM) | 8GB or above |
| Storage | 512GB SSD + 1TB HD or more |
| Display | 15.6-inch FHD / UHD IPS (1080 x 1920) |
| Battery | Up to 9 hours |
11 Best Laptops For Home Music Studio in 2022
1. Acer Book Porsche
SPECS
| | |
| --- | --- |
| CPU | Core i7-1165G7 |
| RAM | 16GB |
| Storage | 1TB SSD |
| Operating system | ‎Windows 10 Home |
| GPU | NVIDIA GeForce MX350 |
| GPU RAM | 2GB |
| Battery | Up to 15 Hours |
| Screen Size | 14 Inches |
| Weight | 3.31 pounds |
| Resolution | 1920 x 1080 |
| Dimension | ‎12.55 x 8.24 x 0.63 inches |
---
---
2. Acer Aspire Vero
SPECS
| | |
| --- | --- |
| CPU | Core i7-1195G7 |
| RAM | 16GB |
| Storage | 512GB SSD |
| Operating system | Windows 11 Home |
| GPU | Intel Iris Xe Graphics |
| GPU RAM | Integrated |
| Battery | Up to 7.5 Hours |
| Screen Size | 15.6 Inches |
| Weight | ‎3.97 pounds |
| Resolution | 1920 x 1080 |
| Dimension | 14.31 x 9.39 x 0.7 inches |
---
---
3. ASUS VivoBook S17
SPECS
| | |
| --- | --- |
| CPU | AMD Ryzen 5 5500U |
| RAM | 8GB |
| Storage | 128GB SSD + 1TB HDD |
| Operating system | Windows 10 Home |
| GPU | ‎AMD Radeon Graphics |
| GPU RAM | ‎AMD ‎Integrated |
| Battery | Up to ‎14 Hours |
| Screen Size | 17.3 Inches |
| Weight | ‎5.07 pounds |
| Resolution | 1920 x 1080 |
| Dimension | 15.98 x 10.08 x 0.78 inches |
---
---
4. ASUS Vivobook
SPECS
| | |
| --- | --- |
| CPU | Core i7-1065G7 |
| RAM | 20GB |
| Storage | 512GB SSD |
| Operating system | Windows 10 Home |
| GPU | Intel HD Graphics 6000 |
| GPU RAM | ‎Integrated |
| Battery | Up to 10 hours |
| Screen Size | ‎15.6 Inches |
| Weight | 3.75 lbs |
| Resolution | 1920 x 1080 |
| Dimension | 14.06 x 9.07 x 0.78 inches |
---
---
5. ROG Zephyrus
SPECS
| | |
| --- | --- |
| CPU | Core i7-9750H |
| RAM | 16GB |
| Storage | 1TB SSD |
| Operating system | Windows 10 Home |
| GPU | NVIDIA GeForce RTX 2070 Max-Q |
| GPU RAM | 8GB |
| Battery | Up to 6 hours |
| Screen Size | 15.6 Inches |
| Weight | ‎4.6 pounds |
| Resolution | 1920×1080 |
| Dimension | 14.2 x 9.9 x 0.8 inches |
---
---
6. Dell Latitude 5420
SPECS
| | |
| --- | --- |
| CPU | Core i5- 1145G7 |
| RAM | 32GB |
| Storage | 1TB SSD |
| Operating system | Windows 11 Pro |
| GPU | Intel Iris Xe Graphics |
| GPU RAM | ‎Integrated |
| Battery | Up to 7 hours |
| Screen Size | 14 Inches |
| Weight | 4.79 Pounds |
| Resolution | 1920×1080 |
| Dimension | ‎8.35 x 12.65 x 0.76 inches |
---
---
7. Dell Inspiron
SPECS
| | |
| --- | --- |
| CPU | Core i7-11390H |
| RAM | 8GB |
| Storage | 512GB SSD |
| Operating system | Windows 11 Home |
| GPU | NVIDIA GeForce MX450 |
| GPU RAM | 2GB |
| Battery | Up to 5 hours |
| Screen Size | ‎15.6 Inches |
| Weight | ‎3.6 pounds |
| Resolution | 1920 x 1080 Pixels |
| Dimension | ‎9.01 x 14.02 x 0.71 inches |
---
---
8. HP Pavilion
SPECS
| | |
| --- | --- |
| CPU | Core i7-1165G7 |
| RAM | 16GB |
| Storage | 512GB SSD |
| Operating system | Windows 11 Pro |
| GPU | Intel Iris Xe Graphics |
| GPU RAM | Integrated |
| Battery | Up to 8 hours |
| Screen Size | 15.6 Inches |
| Weight | 3.86 lbs |
| Resolution | 1920 x 1080 |
| Dimension | ‎9.21 x 14.18 x 0.7 inches |
---
---
9. HP ProBook
SPECS
| | |
| --- | --- |
| CPU | Core i5-1135G7 |
| RAM | 32GB |
| Storage | 1TB SSD |
| Operating system | ‎Windows 10 Pro |
| GPU | ‎Intel Iris Xe Graphics |
| GPU RAM | ‎Integrated |
| Battery | Up to ‎10 Hours |
| Screen Size | 15.6 Inches |
| Weight | ‎3.84 pounds |
| Resolution | 1920×1080 |
| Dimension | ‎14.15 x 9.21 x 0.78 inches |
---
---
10. Lenovo IdeaPad
SPECS
| | |
| --- | --- |
| CPU | Core i5-1135G7 |
| RAM | 20GB |
| Storage | 1TB SSD |
| Operating system | Windows 11 Home |
| GPU | Intel Iris Xe Graphics |
| GPU RAM | Integrated |
| Battery | Up to 6 Hours |
| Screen Size | 15.6 Inches |
| Weight | 3.64 lbs |
| Resolution | 1920 x 1080 |
| Dimension | ‎14.14 x 9.31 x 0.78 inches |
---
---
11. MSI Creator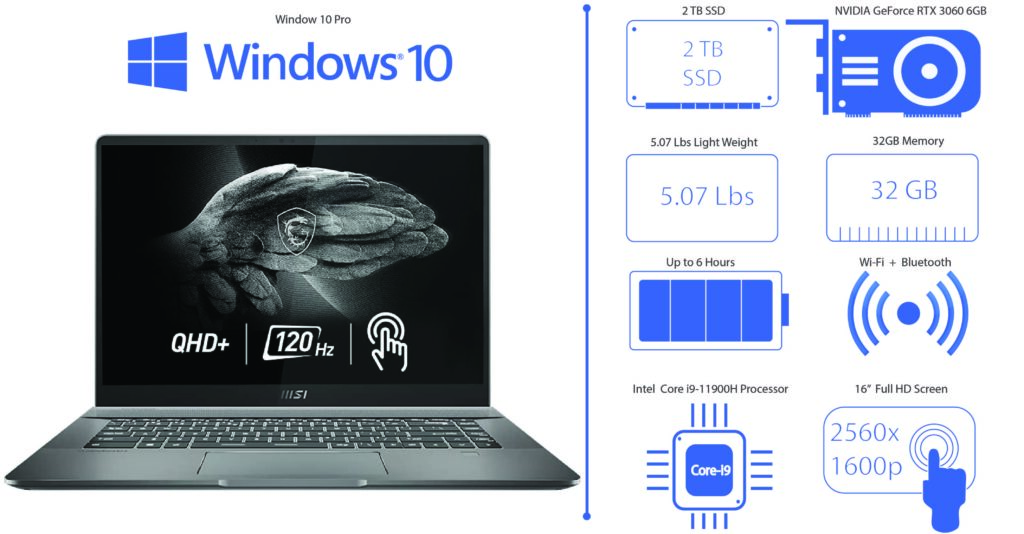 SPECS
| | |
| --- | --- |
| CPU | Core i9-11900H |
| RAM | 32GB |
| Storage | 2TB SSD |
| Operating system | Windows 10 Pro |
| GPU | NVIDIA GeForce RTX 3060 |
| GPU RAM | 6GB |
| Battery | Up to 6 hours |
| Screen Size | 16 Inches |
| Weight | ‎5.07 pounds |
| Resolution | ‎2560 x 1600 pixels |
| Dimension | ‎0.64 x 14.13 x 10.08 inches |