Lenovo is the fastest growing laptop brand and it is giving tough competition to other laptop manufacturers like Dell, Apple, HP, and Microsoft. This is because Lenovo laptops are comparatively inexpensive and they provide almost all the features which that brand provides at a much low cost. Lenovo laptops are popular among web developers, programmers, music producers, college students, bankers, and businessmen. In this article, we have listed some of the advance and powerful Lenovo laptops for Music Production.
Everyone loves music but music production or making beats is a challenging task. It requires a lot of hard work, dedication, self-confidence, and motivation. Also, there are more than a dozen music production or music recording software available like Fl Studio, Ableton Live, Reaper, pro tools, Rekord Box, Serato DJ, etc. And as we discussed, we are going to mention the best Lenovo laptops on which you can use any of this software.
Tbh we are also using Lenovo laptops for writing this article. The main reason why many people love using Lenovo laptops is that they are lightweight, have long battery life, and are cost-effective. You can find Lenovo laptops in different price ranges with different specifications. The only thing in which this brand falls behind is its design. Lenovo doesn't change the design of its laptop very frequently. But if we see its other features then it can be compromised.
So without wasting much time let's take a quick review of the minimum and recommended system requirements for getting the best Lenovo laptop for Music Production. And below that, we have mentioned the best Lenovo laptops also.
System Requirement for Music Production
Minimum Requirements
| | |
| --- | --- |
| CPU | 6th Gen Intel Core i5 |
| Memory(RAM) | 4GB |
| Storage | 128GB SSD + 500GB HDD |
| Display | 15.6-inch / 14-inch FHD (1080 x 1920) |
Recommended System Requirements
| | |
| --- | --- |
| CPU | 7th Gen Intel Core i7 |
| Memory(RAM) | 8GB or above |
| Storage | 512GB SSD or more |
| Display | 15.6-inch FHD / UHD IPS (1080 x 1920) |
16 Best Lenovo Laptops For Music Prodction in 2022
Best Lenovo Laptops For Music Production under 700$
1. Lenovo IdeaPad Gaming 3
SPECS
| | |
| --- | --- |
| CPU | Intel Core i5-10300H |
| RAM | 8 GB |
| Storage | 256 GB SSD |
| Operating system | Windows 10 Home |
| GPU | NVIDIA GeForce GTX 1650 |
| GPU RAM | 4GB |
| Battery | Up to 9 hours |
| Screen Size | 15.6 Inches |
| Weight | ‎4.85 pounds |
| Resolution | ‎1920 x 1080 pixels |
| Dimension | ‎14.1 x 9.8 x 0.98 inches |
---
---
2. Lenovo IdeaPad 3 Travel
SPECS
| | |
| --- | --- |
| CPU | AMD Ryzen 5 5625U processor |
| RAM | 8 GB |
| Storage | 512GB SSD |
| Operating system | Windows 11 Home |
| GPU | AMD Radeon Vega 7 |
| GPU RAM | ‎AMD ‎Integrated |
| Battery | Up to 9 hours |
| Screen Size | ‎17.3 inches |
| Weight | 4.84 lbs |
| Resolution | ‎1920 x 1080 Pixels |
| Dimension | 15.71 x 10.79 x 0.78 inches |
---
---
3. Lenovo IdeaPad 3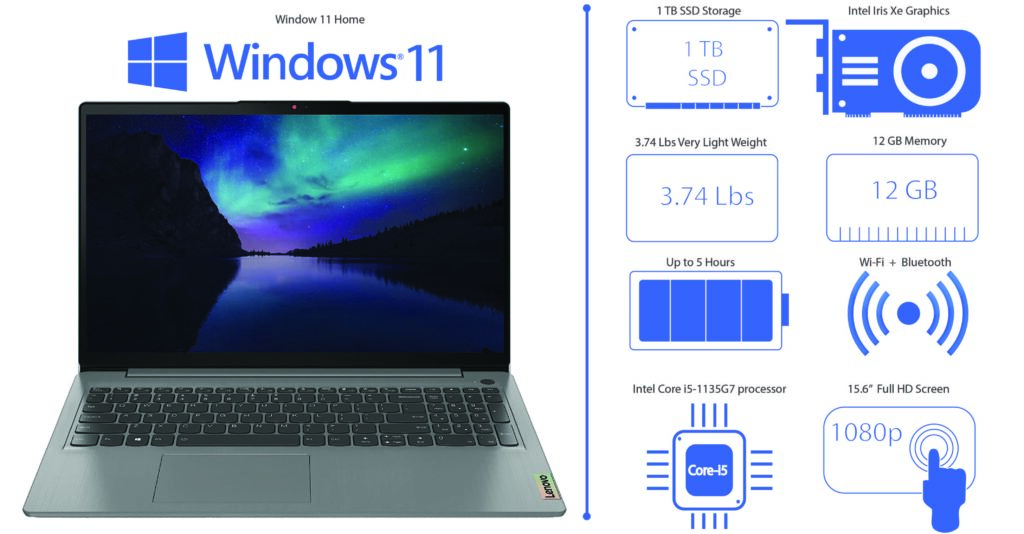 SPECS
| | |
| --- | --- |
| CPU | Intel Core i5-1135G7 |
| RAM | 12 GB |
| Storage | 1 TB SSD |
| Operating system | Windows 11 Home |
| GPU | Intel Iris Xe Graphics |
| GPU RAM | Integrated |
| Battery | Up to 5 hours |
| Screen Size | 15.6 Inches |
| Weight | 3.74 Pounds |
| Resolution | 1920 x 1080 touchscreen |
| Dimension | 15 x 10 x 1 inches |
---
---
4. Lenovo IdeaPad NoteBook
SPECS
| | |
| --- | --- |
| CPU | Intel Core i5-1135G7 |
| RAM | 12 GB |
| Storage | 512 GB SSD |
| Operating system | Windows 10 Home |
| GPU | Iris Xe Graphics |
| GPU RAM | Integrated |
| Battery | Up to 12 Hour |
| Screen Size | 15.6 Inches |
| Weight | ‎3.64 pounds |
| Resolution | 1920 x 1080 Pixels Touchscreen |
| Dimension | ‎9.3 x 14.1 x 0.78 inches |
---
---
Best Lenovo Laptops For Music Production under 1000$
5. Lenovo IdeaPad Flex
SPECS
| | |
| --- | --- |
| CPU | AMD Ryzen 5 5500U Processor |
| RAM | 16 GB |
| Storage | 512GB SSD |
| Operating system | Windows 11 Home |
| GPU | AMD |
| GPU RAM | ‎Integrated |
| Battery | UP to 8 hours |
| Screen Size | ‎14 inches |
| Weight | ‎5.06 pounds |
| Resolution | 3840 x 2160 pixel ( 4K ) |
| Dimension | ‎12.33 x 8.85 x 0.76 inches |
---
---
6. Lenovo ThinkBook 15 Gen
SPECS
| | |
| --- | --- |
| CPU | Intel Core i7-1255U Processor |
| RAM | 16 GB |
| Storage | 512 GB SSD |
| Operating system | Windows 11 Pro |
| GPU | Intel Iris Xe Graphics |
| GPU RAM | Integrated |
| Battery | Up to 8 hours |
| Screen Size | 15 Inches |
| Weight | 3.75 lbs. |
| Resolution | 1920 x 1080 |
| Dimension | 14.1 x 9.25 x 0.74 inches |
---
---
7. Lenovo IdeaPad Gaming
SPECS
| | |
| --- | --- |
| CPU | AMD Ryzen 5 6600H |
| RAM | 8 GB |
| Storage | 256 GB SSD |
| Operating system | Windows 11 Home |
| GPU | NVIDIA GeForce RTX 3050 |
| GPU RAM | 4GB |
| Battery | Up to 8 hours |
| Screen Size | 15.6 inches |
| Weight | ‎7.88 pounds |
| Resolution | ‎1920 x 1080 pixels |
| Dimension | ‎14.16 x 10.49 x 1.02 inches |
---
---
8. Lenovo IdeaPad
SPECS
| | |
| --- | --- |
| CPU | AMD Ryzen 7 3700U |
| RAM | 20 GB |
| Storage | 512 GB SSD + 1TB HDD |
| Operating system | Windows 10 Home |
| GPU | AMD Radeon RX Vega 10 |
| GPU RAM | AMD |
| Battery | ‎8 Hours |
| Screen Size | 17.3 Inches |
| Weight | 4.85 pounds |
| Resolution | 1600 x 900 Pixels |
| Dimension | 15.83 x 11.07 x 0.78 inches |
---
---
9. Lenovo IdeaPad Touchscreen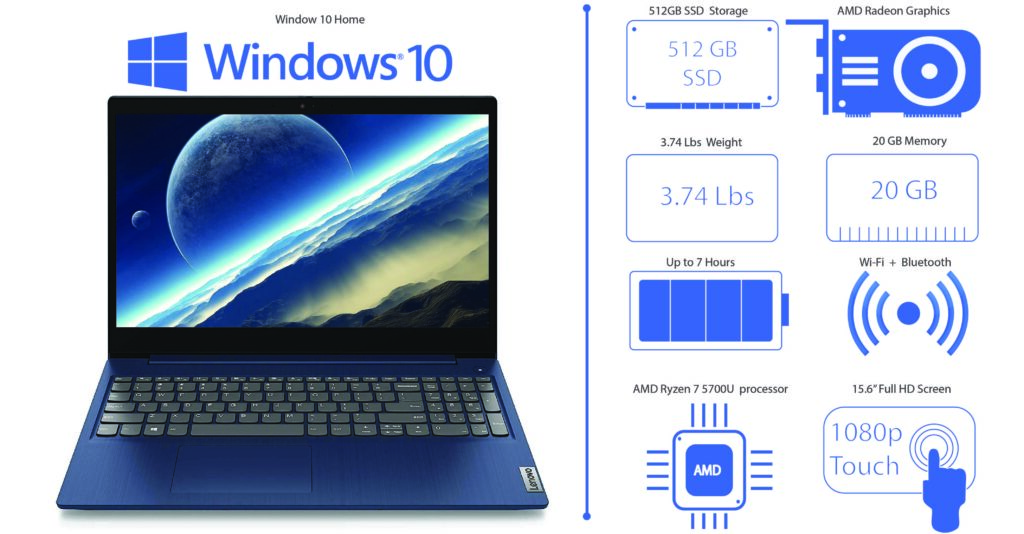 SPECS
| | |
| --- | --- |
| CPU | AMD Ryzen 7 5700U |
| RAM | 20 GB |
| Storage | 512 GB SSD |
| Operating system | Windows 10 Home |
| GPU | AMD Radeon Graphics. |
| GPU RAM | AMD ‎Integrated |
| Battery | Up to 7 hours |
| Screen Size | 15.6 Inches |
| Weight | 3.74 lbs |
| Resolution | 1920 x 1080 touchscreen |
| Dimension | ‎14.26 x 9.98 x 0.78 inches |
---
---
Best Lenovo Laptops For Music Production under 1500$
10. Lenovo Legion 5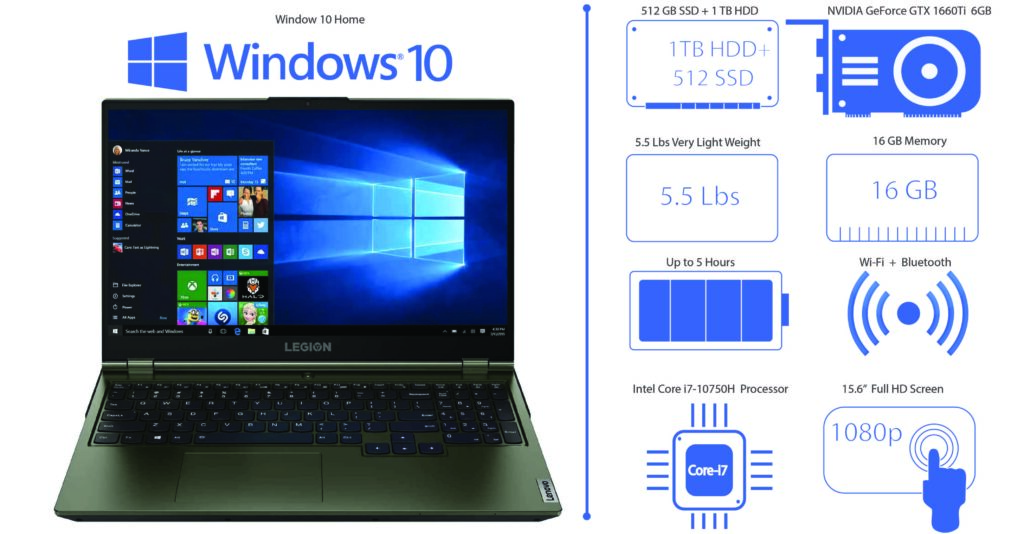 SPECS
| | |
| --- | --- |
| CPU | Intel Core i7-10750H |
| RAM | 16 GB |
| Storage | 1 TB HDD+ 512 GB SSD |
| Operating system | Windows 10 Home |
| GPU | NVIDIA GeForce GTX 1660Ti |
| GPU RAM | 6GB |
| Battery | ‎5 Hours |
| Screen Size | 15.6 Inches |
| Weight | ‎5.5 pounds |
| Resolution | 1920 x 1080 Pixels |
| Dimension | 14.29 x 10.24 x 1.03 inches |
---
---
11. Lenovo ThinkBook 15p
SPECS
| | |
| --- | --- |
| CPU | Intel Core i5-11400H |
| RAM | 16GB |
| Storage | 512 GB SSD |
| Operating system | ‎Windows 11 Pro |
| GPU | NVIDIA GeForce GTX 1650 |
| GPU RAM | ‎4 GB |
| Battery | Up to 8 hours |
| Screen Size | ‎15.6 Inches |
| Weight | ‎4.19 pounds |
| Resolution | ‎1920 x 1080 pixels |
| Dimension | ‎9.8 x 14.1 x 0.78 inches |
---
---
12. Lenovo ThinkPad P14s
SPECS
| | |
| --- | --- |
| CPU | AMD Ryzen 7 PRO 4750U |
| RAM | 32 GB |
| Storage | 512GB SSD |
| Operating system | Windows 10 Pro |
| GPU | AMD Radeon Graphics |
| GPU RAM | ‎AMD Integrated |
| Battery | Up to 9 hours |
| Screen Size | ‎14 Inches |
| Weight | ‎3.42 pounds |
| Resolution | 1920 x 1080 pixels |
| Dimension | 9.8 x 8.7 x 0.6 inches |
---
---
13. Lenovo ThinkPad P15v
SPECS
| | |
| --- | --- |
| CPU | Intel Core i7-11800H |
| RAM | 16GB |
| Storage | 512GB SSD |
| Operating system | Windows 10 Pro |
| GPU | ‎NVIDIA GeForceT600 |
| GPU RAM | 4GB GDDR6 |
| Battery | Up to 7 hours |
| Screen Size | ‎15.6 Inches |
| Weight | ‎7.3 pounds |
| Resolution | 1920 x 1080 pixels |
| Dimension | ‎20.2 x 13.2 x 3.5 inches |
---
---
14. Lenovo Legion Gaming
SPECS
| | |
| --- | --- |
| CPU | AMD Ryzen 7-5800H Processor |
| RAM | 16 GB |
| Storage | 512 GB SSD |
| Operating system | Windows 11 Home |
| GPU | NVIDIA GeForce RTX 3060 |
| GPU RAM | 6GB GDDR6 |
| Battery | Up to 9 hours |
| Screen Size | ‎15.6 Inches |
| Weight | 5.28 lbs |
| Resolution | ‎1920 x 1080 Pixels |
| Dimension | 14.29″x 10.22″x 1.03″ |
---
---
Best Lenovo Laptops For Music Production under 2000$
15. Lenovo ThinkPad P15s
SPECS
| | |
| --- | --- |
| CPU | Intel Core i7-1165G7 |
| RAM | 16GB |
| Storage | 512GB SSD |
| Operating system | Windows 10 Pro |
| GPU | NVIDIA Quadro T500 |
| GPU RAM | 4GB |
| Battery | Up to 8 hours |
| Screen Size | 15.6 Inches |
| Weight | ‎3.9 pounds |
| Resolution | ‎1920 x 1080 pixels |
| Dimension | 9.8 x 14.4 x 0.8 inches |
---
---
16. Lenovo ThinkPad T15
SPECS
| | |
| --- | --- |
| CPU | Intel Core i7-1185G7 |
| RAM | 16GB |
| Storage | 512GB SSD |
| Operating system | Windows 10 Pro |
| GPU | ‎Intel Iris Xe Graphics |
| GPU RAM | Integrated |
| Battery | Up to 10 hours |
| Screen Size | ‎15.6 Inches |
| Weight | 4.06 pounds |
| Resolution | ‎1920 x 1080 pixels |
| Dimension | ‎9.8 x 14.4 x 0.75 inches |
---
---
17. Lenovo ThinkPad T14s
SPECS
| | |
| --- | --- |
| CPU | AMD Ryzen 5 PRO 5650U |
| RAM | 16GB |
| Storage | 512GB SSD |
| Operating system | Windows 10 Pro |
| GPU | ‎AMD Radeon Graphics |
| GPU RAM | AMD Integrated |
| Battery | Up to 14 hours |
| Screen Size | 14 Inches |
| Weight | ‎3.46 pounds |
| Resolution | ‎1920 x 1080 pixels |
| Dimension | x 12.9 x 0.66 inches |
---
---